EQUIPMENT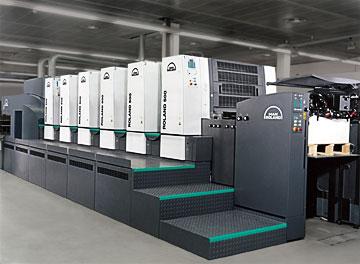 We utilize the most current technology in our industry. We are continuously adding on new software and equipment to give you the most options and fastest turnarounds.
Our conventional offset capabilities in combination with our 6-color HP Indigo 5000 Digital press, can have a great impact on your marketing and product needs. As the first company in the Southeast to install the HP 5000 with over 8 years of experience in digitally printing, we understand your need for Color NOW. We can work within most budgets and deadlines to meet your needs.
And we realize that most people could care less about what models of equipment we use, so long as they receive what they ordered. Still, we can't help being proud of our toys. Once you see how great they make you look, we hope you'll be proud of them, too.
Click the link for our Equipment List. You will need Adobe Acrobat Reader to view.