OUR HISTORY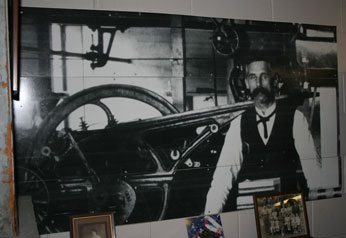 Lawton Printers was formed in 1900 by Joseph Benjamin Lawton. J.B. Lawton was born in Louisiana in 1860. Mr. Lawton's early education was supervised by his father, but much like Benjamin Franklin and others, he received his real education chiefly in the printing office, an excellent school. He began to learn the printers' trade at the age of 10. After schooling, Lawton hired on as a newspaper writer. He worked his way up from the city desk to editor before buying the paper himself.
Politics dictated printing in New Iberia, Louisiana, where he owned and published the New Iberia Enterprise. Refusing to go along with the political threats, Lawton printed only the truth. This put his family in danger and was made even more evident when someone took a shot at him putting two bullets in his stomach. Lawton soon got their message, and they decided to move south to Orlando where they heard pineapple growing was the going concern.
The Lawton's bought two houses on a 5 acre tract outside of town on the north side of Lake Eola. A hard freeze at the turn of the century sent his pineapple dreams up in smoke. So, J.B. Lawton returned to the only thing he knew... printing. Lawton Press was formed in1900.
Tradition is rich in the Lawton family. Each son began his printing training at early ages. Working after school and during the summers, they learned the intricacies of each piece of equipment to produce the highest quality possible. J.B.'s son J. Cestia Lawton ran the shop until 1948. J.B. Lawton III worked at the shop and later owned it from 1925-1981. In 1981 was when Ces Lawton purchased the business from his father J.B. III.
When Ces took over, Lawton Printers went from a small job shop to a full service commercial printer. By adding new equipment, Lawton's customer base and their needs grew. Unfortunately by 2002, so did Ces' outside interests. He grew tired of owning a printing company and looked to sell. When daughter, Kimberly Lawton Koon, heard this, she and her husband, Tyler, decided to move back down to Florida to buy the family business. They came into the business in 2002 and completed the purchase in 2005.
Since then the company has continuously seen growth through new technology, new equipment, passion, and youth. They are committed to the environment, FSC® and SFI Certified since 2008 and continue to give to the Central Florida community.
In June 2012, Lawton Printers just moved into a new, larger 33,000 square foot facility in Downtown Orlando. Tradition is rich in the Lawton family. The Fifth Generation of Lawton's is now at the helm making us the oldest, continuous family run printing business in the country.