PREPARING FILES FOR PRINT
Understand the Basics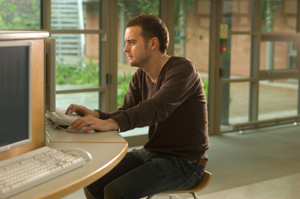 Preparing your files for print:
- When possible, send PDF Files for print
- When collecting for output to send to print, don't forget to include all images & fonts
- Include 1/8" bleed on all 4 sides of your document
- Remember when printing a Four Color Process job to convert all images and colors to CMYK (cyan, magenta, yellow, black), as opposed to RGB or Spot Colors
- Always link your graphics instead of embedding them
- Do not rename graphic files after you put your file on disk. If the files are named incorrectly, they will not link properly and cause delays as well as increase output costs
- Set black text to 100% black (Not 4/Color text)
- For large solid areas of black, consider setting the color to 100% black, 40% cyan, & 40% magenta to get a Rich Black
- Create a copy of everything before sending
Print Layout

Above is a diagram of a typical document for print designs.
Trim Line: This is the finished size of the piece.
Live Area: The area that is considered safe to keep any important information within. For example, if an magazine's trim size is 8.5 in × 11 in, the live area might be 8.0 in × 9.5 in. This takes into consideration the binding if the art is placed on the left or right of a spread and you don't want copy to be unreadable if it is too close to the spine.
Bleed Area: The minimum bleed you need for a printed piece is 0.125 in (1/8 in) but some specs require more than that. So if you are working with an image in Photoshop and you're placing it in InDesign for print preparation, keep in mind the area you might need to use for the bleed.
Crop Marks: Indicates where to cut the paper.
Printing Blacks

Deciding to Use Black or Rich/Packed Black
When printing with black color solids, there are two types of black you can use.
Black – 100 K: can be used for body copy and barcodes
Rich Black – 40 C 40 M 20 Y 100 K: should be used when using blocks of black
Below, you will see the difference between rich black and black. It may be hard to tell the difference when preparing files on your monitor screen depending on your monitor type and monitor calibration since PC screens show richer colors in RGB.
* But for Text, only use 100% Black (No Rich Black)