SCRATCH OFF CARDS
Scratch Off Cards - Get Noticed!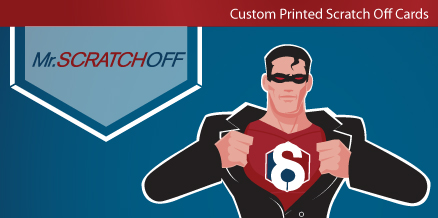 Custom Printed Scratch Offs are a cost effective tool to increase response, sales and profits! Lawton Printers can help you add a scratch card to your next promotion and reach your marketing goals faster...Introducing Mr. Scratch Off!
Mr. Scratch Off is a Division of Lawton Printers, specializing in Custom Printed Scratch Off cards. Unique and Variable numbering can be easily added for your Scratch Off printing needs: Scratch Off Cards, Scratch Off Tickets, Scratch Off Postcard Mailers, Download cards, games and much more.
Whether you're ordering scratch cards for the first time or you uses them regularly, contact us for help with artwork, variable data, printing and fulfillment to give you the best scratch off promotion possible.
Free Samples and Low Cost Pricing! Enter your request below, or visit www.MrScratchOff.com for details.
Request More Info on Your Custom Printed Scratch Off Cards